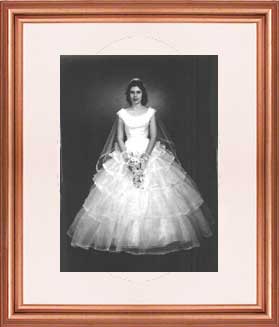 This is the way Molly looked on the day she married Charles Edward Bull.
Add years, pounds, and inches to this picture and put blue-gray and silver
strands in her dark hair, and you will know what Molly looks like today.
To learn about Molly's newest novel, scroll down and click Molly's Books.
BUT IT'S NOT ABOUT MOLLY.
HER WRITING IS ABOUT THE LORD.
www.shoutlife.com/mollynoblebull


Read about her background and experiences!

Review all of Molly's titles!

Browse through a scrapbook of family images!

Download free samples!
---
Visit My Social Media Pages
Facebook: http://facebook.com/molly.n.bull

Blog: http://writersrest.blogspot.com
---
When you're through, click on these other fine sites:
Copyright 2001-2015 Molly Noble Bull. All rights reserved.
Hosting by: hostdepot.com