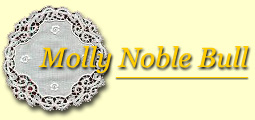 Molly's Testimony
When I told one of our sons that I was having a new web page built, he said, "Why would you need one, Mom?" And this got me to thinking. Why would I?
Wouldn't it be better to have a web site dedicated to God than one dedicated to me? Who am I to expect such an honor? The only answer I could come up with was that I am a sinner saved by Grace. Nothing more. Nothing less.
At one time in my life people asked, "Do you know you'll go to heaven when you die?" And I would probably have said, "No, but I sure hope so. After all, I've never killed anyone or broken the ten commandments." Or did I? Sure, I told a few little white lies along the way, but nothing really bad. Besides, nobody can know whether or not they are going to heaven when they die.
Back then, if someone had asked why I think I should be allowed inside the pearly gates, I would have said something like, "Well. I've lead a pretty good life. Not perfect, of course, but fair to middling." But according to the Bible, fair to middling isn't enough. We must be perfect just as our Father in Heaven is perfect. But is that possible? I didn't think so because I had never understood the meaning of Grace.
The good news is that now I understand the meaning of Grace, and I know how someone like me can become perfect in the eyes of God. Even one tiny sin can keep a person out of Heaven, and since like everyone else in the world, I'm not perfect, I have a straight F spiritual report card. If I appeared at the pearly gates with my straight F card, I would be directed to the nearest Down elevator. But God's only begotten son, Jesus Christ, paid for my sins on a cross at Calvary. Though I am in no way perfect, because of what Jesus did for me and for all of us on the cross, I have been forgiven of all my sins and declared perfect and righteous in the sight of God. It's as if I have been given a copy of Jesus' straight A+ spiritual report card to use at the pearly gates -- instead of my straight F card. But in order to have the right to do that, I must --- (1.) Repent of all my sins. (2.) Invite the Lord to come and live in my heart forever. Those who fail to do those two things will only have their straight F cards to present at the gates of Heaven, and they will be sent to the only place where those cards are accepted. I think we all know the location of that place. (3.) Be baptised.
There is no third alternative. When we die, we will go to Heaven or Hell.
Do I know I'll go to heaven when I die? You bet I do because I repented. I asked the Lord to come and live in my heart forever and then, I was baptised. The process is called Grace, and it is amazing. If we keep on following the Lord, we can know that we will go to Heaven when we die. But only if we ask the Lord in prayer to forgive us for all our sins and really mean it. Then asked God to come into our hearts and into our lives and live there forever. And don't forget to make these requests in the name of Jesus Christ, our Lord and Savior, because Jesus is the one who paid for all our sins. By the way, if you haven't already done this, now is the perfect time.
Love to all,
Molly Bull
A Little History...
An only child, I was born of Scottish, Irish, English and French descent in Kingsville, Texas -- home of the famous King Ranch. Kingsville is near the Gulf coast in the cattle ranching country of South Texas. The Noble, of Molly Noble Bull, is my maiden name.
My husband, Charlie Bull, and I married when I was 21, and for a time we lived in Germany while he was in the army. We have three sons, Bret, Burt, and Bren, and all three are part-time cowboys.
Of course, I'm a born again Christian. I was raised in a liberal, mainline church, but after being saved at the age of 33, I joined a Southern Baptist Church. I think like an early American. This also includes my values which are conservative and pro-life. Today, we home church.
Charlie and I lived in a rock home at the top of a hill in the beautiful Texas Hill Country west of San Antonio for about 20 years before moving to Kingsville.
Writing: As a child I loved to play with dolls and paper dolls, and "Let's Pretend" was favorite childhood game. Pretending meant creating long dialogues and complicated plots, and I never tired of doing it. I think novel writing is what let's pretenders do after they grow up. I was already a born again Christian before I started selling my work, and it is not surprising that I write for the Christian market only.
Interests: Besides writing, I enjoy genealogy, travel, conservative causes, and Bible prophecy.
Influences: My father and my maternal grandfather were ranch managers -- in other words they were real, Texas cowboys! They rode, roped, and branded horses and cattle. For a time during my growing up years I lived on the Santa Rosa Ranch, a sixty thousand acre Texas cattle ranch. All three of our sons are involved in ranching in Texas today.
"The Rogue's Daughter," my Zondervan historical, is set on a Texas cattle ranch in 1890.